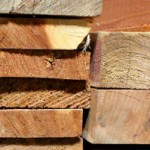 We use sustainable materials in many of our projects  Recycled and upcycled woods are available.
Alaskan Yellow Cedar
Absolutely one of the best woods we have ever used for doors and windows. Light, strong and legendary in it's decay resistant properties, it paints and stains wonderfully and mills to a smooth fine finish. It is our stock wood here for all products, paint grade or otherwise unless another species is specified.
Western Red Cedar
Another wonderful wood for door and window making, Western Red Cedar comes long and straight with very fine grain and texture. It paints, stains and glues extremely well although it does not need to be finished to withstand the weather as it's rot resistant qualities let it withstand the elements on it's own merits. We stock a certain amount of it and it is also readily available
Redwood
Redwood needs no introduction to Californians, famous for it's straightness and rot resistance, most of the old growth fine grain Redwood we use here is recycled from old down timber, beams, and recycled tanks. It's very similar to Western Red Cedar but without as much color variety.
Pacific Madrone
A unique Northwestern hardwood with an incomparable warm look, Pacific Madrone is prized for its rich burgundy, salmon, and warm cream color range.  Madrone grows in forest openings from British Columbia to Southern California.
Myrtle – California Bay Laurel
Myrtle is recognized for its striking variety of color and character, offering a range from blonde to dark chocolate to radiant gold.  Minerals drawn up through the soil and into the tree lend accents of slate blues and greens.
Also known as California Bay Laurel, this hardwood species is found along coastal areas in Southern Oregon and Northern California.  It can live for many hundreds of years, regenerating itself from its roots when the trunk and branches are damaged.
Myrtle is considered a world-class tonewood and is sought after by luthiers and woodworkers around the globe. Uniquely beautiful and perfect for long-lasting flooring and used for furniture, cabinetry, and other applications.
Walnut
Recognized for its dark range of rich colors and swirling grain patterns, Walnut is a very hard wood of intense beauty, with dark chocolate, caramel, and occasional vanilla tones that redden with exposure to sunlight.  It makes a beautiful floor, as well as furniture, butcher block, and accents in a wide variety of additional interior applications. Brought over from England as root stock,  Walnut is not a native species and is mainly found in controlled orchard settings, urban yards, and other areas where it has been planted intentionally.
Douglas Fir
Douglas fir was the building material of choice for many northwestern homes built in in the late 1800′s and early 1900′s, used for framing, flooring, and other applications both interior and exterior. Douglas Fir makes a very good and strong door and window wood. It is important that this wood does not trap and hold water on the weather side or it can decay over time. A proper door or window design and painting will eliminate those problems
Reclaimed & Recycled Woods
Old wood sourced from barns, water tanks, warehouses, buildings and structures. Choose from Redwood, Douglas Fir, Cedar, Hardwoods and more.
Recycled hardwoods included White Oak, Elm, Ash, Hickory, Red Gum, Walnut, and Bay Laurel.